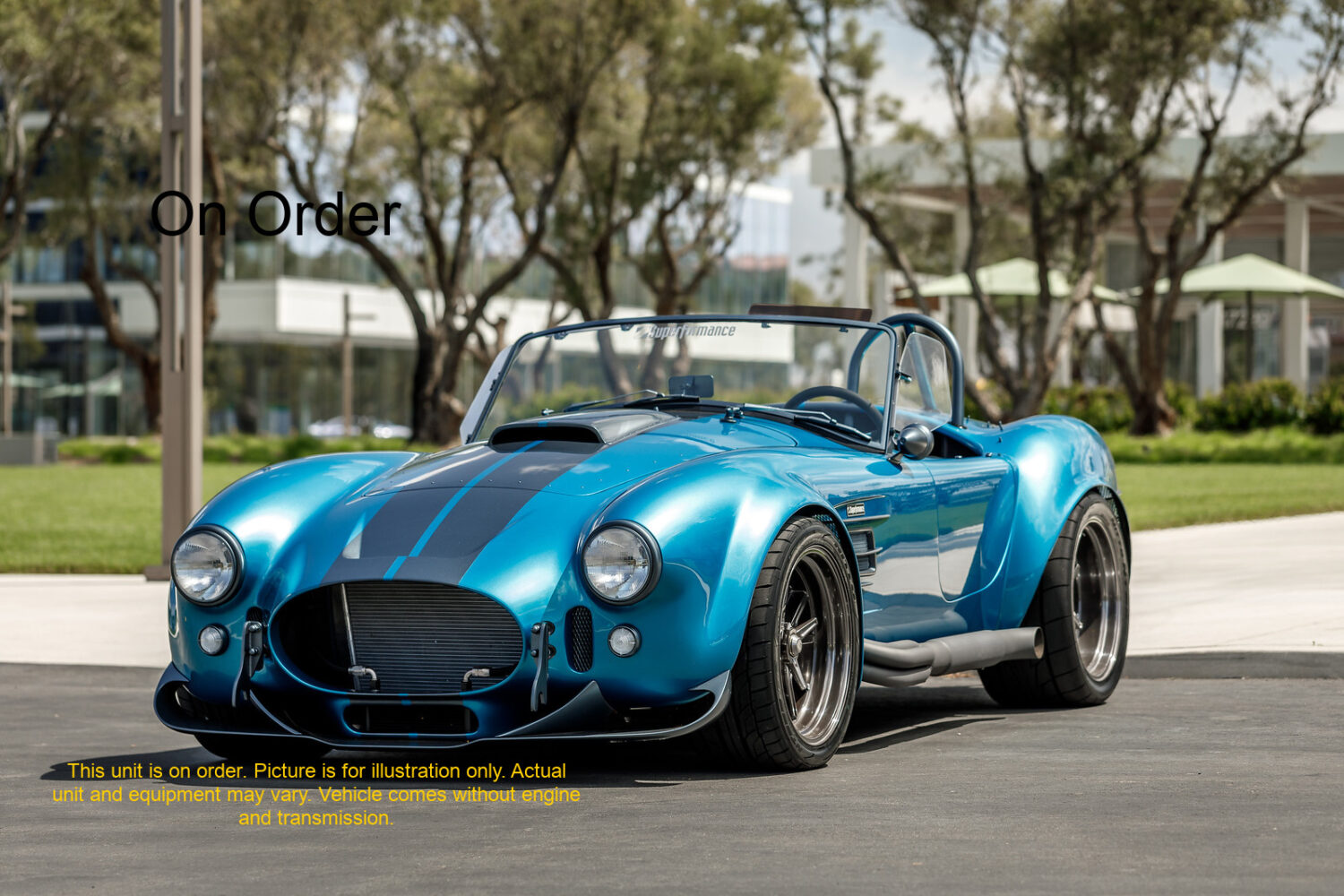 Engine:
TBD
Transmission:
TBD
Exterior Color:
Atlantis Blue
Interior Color:
Black
Cut down on the wait time for the finest built Cobra's available. This MKIIIR is built and is in stock transit. Cut down on your wait and reserve this Cobra now while it is still available. This unit will be finished in Atlantis Blue with Anthracite stripes and and Black leather interior. BF Goodrich g-force Rival S tires are mounted on the matching Antracite 18″ wheels to finish out the ride.
Factory Options:
R Package
Twin Stripes
Black Out Package
Painted Louvres
Soft Top with Side Curtains
Tonneau Cover
LED Headlamps
5.0L Coyote Install Kit
Anthracite Ceramic Coated Headers
Anthracite Ceramic Coated Side Pipes
Return Fuel Line
Fuel Swirl Pot
Carbon Fiber Dash
Push Button Start
Electronic Gauge Package
Floor Mats
The Superformance MKIII-R
Introducing the all new Superformance MKIII-R. This is what you get when you take an Old-School Classic and infuse a bit of modern day flair. The MKIII-R retains much of its original shape and wheelbase but gets it's bold and aggressive look with the addition of integrated "Scalloped" Fenders and Hood. Black Mesh Side and Fender Vents also add aero to the overall grittier appearance. To ensure a complete, aesthetic, and functional package, the MKIII-R also comes with a beefy rear diffuser and body-contour matching Front Splitter.
In the Interior, we have added custom French stitched seats with body color accented thread. The Transmission tunnel is also adorned with leather as well. On the Dash, it is equipped with the new Superformance Electronic Gauges. The MKIII-R standard equipment features: Power Steering, LED Headlights, 18″ Wheels, and is available in almost any color imaginable and can be ordered with other Interior choices as well.
All trim has been coated and Stripes have been painted in an Anthracite color which is a perfect match for this Atlantis Blue Painted Body. The other options on this stunning MKIII-R are 6 Piston Front Big Brakes, Push Button Start, and Soft Top.
DIMENSIONS and CAPACITIES:
Wheelbase: 90″
Length: 152″
Height (Top of screen): 48″
Width (Overall): 69″
Track Front: 54″
Track Rear: 57″
Fuel Tank: 17 gal.
Front Wheels: 15″ x 8J
Rear Wheels: 15″ x 10J
Tires-Front 255/60 R15
Tires-Rear 275/60 R15
ZF Limited slip differential. Ratio 3:45:1
Empty Weight: 1,840 lbs.
351 Motor 2,485 lbs.
427 Motor 2,590 lbs.
460 Motor 2,660 lbs.

CHASSIS:
Jig-Welded parallel ladder frame of heavy wall 2″ x 4″ rectangular steel tubing with large diameter outriggers. Frame incorporates front and rear crumple zones. Door hinge, steering column and windshield pickup-points incorporated onto main chassis.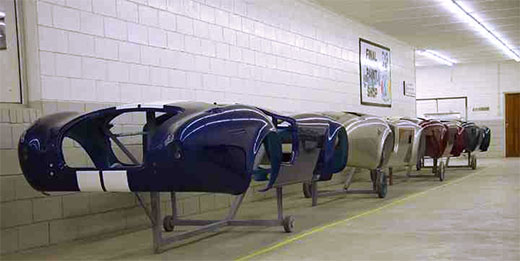 All Superformance products come factory assembled without engine and transmission. Purchase and installation are the responsibility of the owner.
This unit is in tranist. Picture is for illustration only. Pictures on jig is actual production photos at factory. Actual unit and equipment may vary. Vehicle comes without engine and transmission.